Online Divorce
in Oklahoma
Simple process to get divorce papers online
Affordable pricing plans with no hidden fees
Unlimited changes to forms and free revisions
Divorce papers ready to download in two business days
Step-by-step filing instructions
Award-winning tech support for all customers
Divorce in Oklahoma is quick and easy
Divorce Online in Oklahoma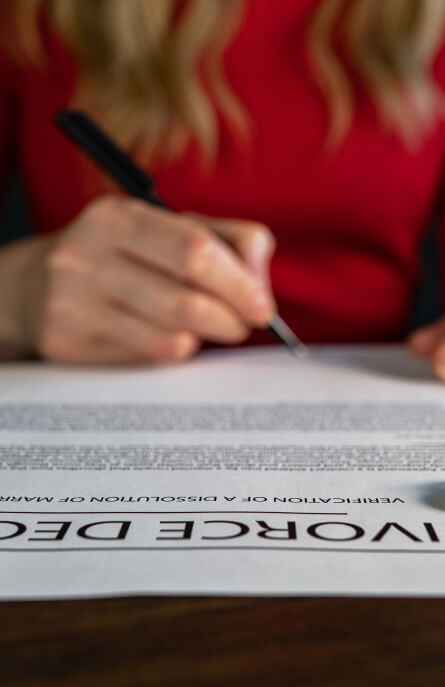 If you've been looking for a fast and affordable online divorce service, Oklahoma Online Divorce is here to end the filing hassle in a matter of days.
What are the advantages of online divorce?
You can deal with your divorce papers at any time at any place suitable for you. All you need is your gadget and a stable internet connection, and you won't be dependent on a lawyer's schedule anymore.
It allows you to go at your own pace and go back to make as many changes as you need along the way. No pressure.
All the necessary divorce forms are filled out and available in just 2 business days.
Easy-to-follow written instructions to help spouses avoid mistakes when filing their divorce papers to the court in correspondence to state specifics.
Support services available 24/7.
Low-cost alternative to costly divorce attorneys with a fixed price and no hidden fees.
How to qualify for an online divorce?
To qualify for an online divorce the spouses should be willing to resolve their divorce-related issues amicably out of court. For an online divorce the spouses have to file for a divorce with mutual consent.
Our online service allows spouses to select and complete their forms whether or not they have minor children involved or marital property to be divided.
The divorce-related issues that must be outlined in a marital settlement agreement include child custody, child support, visitation, spousal support (alimony), marital property division, etc.
Compare Your Options for Filing for Divorce in Oklahoma
Divorce With a Lawyer
The traditional contested divorce process requires a lawyer's assistance along the way.
Dependance on the lawyer's schedule
High cost. The average Oklahoma lawyer starts at about $183 per hour
Unnecessary litigation and exhausting court battles
Unforeseen expenses
Custody battles that end up a traumatic experience for the children
Oklahoma Divorce Online
Quick, straightforward, and 100% legit online service for couples eligible for an uncontested divorce.
Divorce forms completion from the comfort of your home
No hidden fees
Completed divorce papers in just 2 business days
Explicit design to help spouses effortlessly navigate through the system to fill out their documents
Award-winning support service
Easy-to-follow filing guide to simplify the filing process
DIY divorce
The least expensive but still reasonably challenging way to handle a divorce without legal help.
Lack of understanding of state's laws and regulations regarding the divorce process
High risk of mistakes in papers
Possible delays in litigation
Possibility of an unfair outcome
Complications leading to a contested divorce
Extra expenses
Here's how our process works.
Looks complicated?
Get your hassle-free divorce
Provide your case details
2
File for Divorce Online in Oklahoma Without a Lawyer
Filing for a divorce without a lawyer may become a somewhat challenging task, especially when it comes to divorce paperwork preparation. The couple has to dig into all the rules and regulations of their county and consider all the peculiarities of their divorce case. Dealing with it without legal assistance leaves the spouses with hands full of documents to be sorted out.
For those couples willing to save their time and money on costly lawyers but still get over their filing fast and for an affordable price, there is an excellent online divorce service, Oklahoma Online Divorce. And although Oklahoma Online Divorce significantly simplifies the online divorce process for spouses, they are still in charge of the further steps of the procedure. Thus, they should remember to handle the following stages appropriately:
Filing the divorce forms.

The filing process may feel like a maze for those spouses with no legal background. Yet, online divorce services have proven to be the go-to option to facilitate the filing process. For example, Oklahoma Online Divorce provides its users with a simple filing guide so that you won't face the process unprepared.

Paying the filing fees.

The plaintiff has to pay the mandatory filing fee when submitting divorce papers, which is about $183.70 in Oklahoma. Don't forget to check the exact amount of the fee, as it may vary depending on the country in which the filing is done.

Serving the papers.

As the filing is completed, the plaintiff needs to serve the copies of all the divorce papers on the defendant.
Do-It-Yourself Divorce in Oklahoma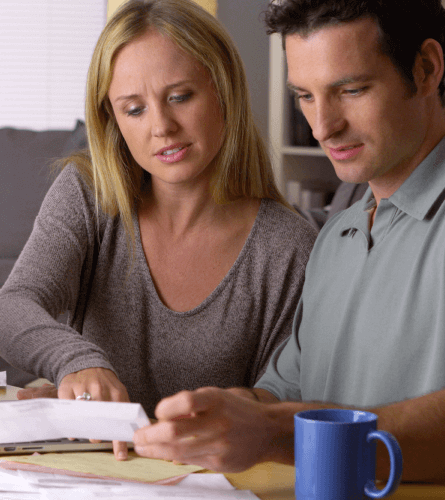 Cooperative spouses able to negotiate peacefully typically choose a DIY divorce for their uncontested divorce. It's the cheapest option to handle your divorce without legal advice if the parties manage to resolve all the divorce-related issues such as child custody, alimony, property division, etc.
A DIY divorce in Oklahoma includes the same steps as a legally assisted procedure:
1. Fill out the required divorce forms
Oklahoma's initial divorce forms may include:
Domestic Relations Cover Sheet;
Petition for Divorce;
Verification;
Marital Settlement Agreement;
Financial Affidavits; and
Entry of Appearance and Waiver of Service.
2. File the papers with the court
The filing is done in the county where either of the spouses resides. Along with the filing, the plaintiff must pay the mandatory filing fee, which is about $183.70 in Oklahoma.
3. Serve the divorce papers on the defendant
As the paperwork is filed, the plaintiff must serve the copies of all the divorce papers on the defendant. In Oklahoma, the service can be done in several forms:
Personal delivery by a process server;
Personal delivery by sheriff or law enforcement officer; or
Via certified mail.
4. Wait 10 days after filing
The waiting period in Oklahoma is 10 days since the filing if there are no minors involved. However, if there are minor children in a marriage, the divorce may be granted after a 90-day waiting period.
5. A no-fault divorce with no minors involved can be finalized within 10 days in Oklahoma. The judge will need to review and approve the spouse's marital settlement agreement and issue a final divorce decree.
All Required Oklahoma State Forms.
Oklahoma-Specific Court Filing Instructions.
Unlimited Revisions for as long as your account is active.
Getting a Divorce With Children in Oklahoma
Oklahoma child custody laws differentiate between physical and legal custody. Physical custody determines with which parent the child will reside, while legal custody is about the parent's right to make major decisions for the child. Both types of custody may be awarded either solely or jointly to both parents.
There are also two other options in Oklahoma: split custody and bird nesting. Split custody is an arrangement when one parent might have custody of one child while another parent has custody of another one. Bird nesting happens when children reside with one parent permanently, and the other parent travels to their home for visits. This type of custody requires strong cooperation between parents and is uncommon.
The divorcing parents may reach an agreement regarding custody, child support, and visitation. However, if they fail to do so, the court will make a decision for them based on the child's best interest.
When it comes to a child's best interest, the following factors are evaluated:
each parent's willingness to foster a relationship between the child and the other parent;
each parent's physical and mental health;
the child's educational and emotional needs;
either parent's history of domestic violence, child abuse, or neglect;
each parent's overall stability;
the child's adjustment to school, home, and the community;
the child's relationship with siblings and extended family members;
either parent's dependency on drugs or alcohol; and
a child's preference in certain circumstances.
According to Oklahoma family law, the parents involved in custody proceedings are required to attend parenting classes.
Residency Requirements in OK
If the couple doesn't want to get their case dismissed and is willing to proceed with their divorce in any Oklahoma county, they must comply with the state's residency requirements. Unfortunately, the most common mistake regarding residency requirements is that the spouses have to file for a divorce in the state where they got married.
According to Oklahoma law, to be eligible for a divorce, either of the spouses must be a state resident for six months immediately before the couple files for a divorce.
Otherwise, any of the spouses must be a resident of any US army post or military reservation within Oklahoma for the same six months term before filing.
How Long Does It Take to Get a Divorce in Oklahoma?
Divorce's timeline depends on many factors. For example, contested divorce with minors involved may take a significant amount of time.
Thus, many couples choose to proceed with a no-fault divorce with a Marital Settlement Agreement. Luckily for Oklahoma residents, their uncontested divorce with no minors involved can be finalized in no more than 10 days since the filing. Otherwise, the state requires the spouses to wait 90 days before the final divorce order is issued when the children are involved.
Another thing to know about the 90-day waiting period in Oklahoma is that the judge can waive it in case:
Neither party objects; or
The court has reason to believe that the counseling has failed and there is no chance for reconciliation.
The following conditions pursuant to 43 O.S. § 107.1(b) also allow to waive the waiting period
Extreme cruelty;
Abandonment (≥1 year);
Habitual drunkenness;
Imprisonment on felony charge;
Conviction of child abuse;
Internment in a state institution for the insane (≥5 years);
The procurement of a final divorce decree without this state by any spouse, which doesn't in this state release the other party from the marriage obligations; or
A child of either party has been adjudicated deprived, pursuant to the Oklahoma Children's Code, as a result of the actions of either party to the divorce, and the party failed to complete the service and treatment plan required by the court.
Customer Testimonials
This is an excellent service. The steps were easy to follow and the judge had zero problems with the paperwork. Thank you!
I have been worried how to go about all the paper work but using Oklhoma online divorce took away all the stress. All I had to do was answer a few questions and I was done.
I thought the process for doing a divorce would have be difficult but the online instruction where right on
Super easy!!! Matter of minutes and now on our way to healing and moving on! Especially being in the military this was so easy and and affordable!
Very fast and easy process. In times when going through a divorce getting the paperwork done shouldn't be an added headache. I received a call shortly after filing to ask if I had any questions about the process or help to reach out. Very great service!
Nice and friendly customer service, currently waiting for all the paperwork. Will see how fast and convenient. Thank you all
I have been divorced once before and it was one of the hardest things as far as documentation and court dates that I have ever had to go through. This has been the easiest divorce experience that I have ever seen and we have minor children.
I am very much grateful for this website & that I stumbled upon it. It is totally worth the time & money, they are very informational & helpful with all your questions.
The process is quick and easy to get forms filled out and made available to you. It is also far better than spending thousands on an attourney.
Frequently Asked Questions
How to file for an uncontested divorce in Oklahoma?
Cooperative spouses willing to reach an agreement can enjoy all the benefits of an uncontested divorce and avoid unnecessary litigation. As soon as they manage to agree regarding their divorce-related issues such as property division, alimony, child custody, support, etc., they can proceed with the following steps:
filing the divorce application,
serving the defendant with the copies of divorce papers, and
completing consents and other documents.
How much does a divorce cost in Oklahoma?
There are several factors that may influence the overall divorce cost like divorce type, complexity and attendant circumstances of a case, and services included. Typically, uncontested divorce with no minor children is much more affordable and convenient and costs about $5,000.
How to get a free divorce in Oklahoma?
Each divorce case comes with its price, which is a mandatory filing fee. In Oklahoma, court filing fees are about $180 but may vary depending on the county.
However, the plaintiff unable to pay the filing fee may request the judge to waive the fees. To do that, the plaintiff should ask the court clerk for a form or use the Pauper's Affidavit authored by Legal Aid Services.
How to get divorce papers in Oklahoma?
The spouses willing to get the necessary divorce forms in Oklahoma may contact the court clerk's office or find the printable templates on the local county court's website.
However, it may be wise to use an online divorce service, namely Oklahoma Online Divorce to get assistance with their divorce forms. The platform helps the spouses select and complete the correct divorce forms in a matter of days for an affordable price.
Where do I go to file for an uncontested divorce in Oklahoma?
In Oklahoma, an uncontested divorce can be filed in the District Court in the county where either spouse resided.
What are the grounds for divorce in Oklahoma?
In Oklahoma, the spouses can proceed with either fault-based grounds for divorce or no-fault ones. No-fault grounds for divorce are irreconcilable differences, which means that the marriage doesn't stand a chance to be reconciled.
Fault-based divorce in Oklahoma includes the following grounds:
Abandonment (for 1 year);
Adultery;
Impotency;
Impregnation by someone other than her husband at the time of the marriage;
Extreme cruelty;
Fraudulent contract;
Habitual drunkenness;
Gross neglect of duty;
Imprisonment of one of the spouses at the time the divorce petition (complaint) is filed, and that incarceration is the result of being sentenced for committing a felony; and
One of the spouses obtained an out-of-state divorce that isn't valid in Oklahoma.
How is property divided in a Oklahoma Divorce?
Oklahoma is known as the community property state, meaning that all marital property is owned equally by both spouses. The critical thing to remember is that only marital and not the separate property will be divided during the divorce. In Oklahoma, marital property is divided equitably either through a joint agreement by the spouses or the court.